The Book
Johnny loves to explore. On a little street in Singapore, he finds an unusual magic Kam Cheng (spice pot) in an old curio shop. He discovers that when he does a special dance, he goes on a magical journey into the wonderful Peranakan Place. There he meets a pretty little Nonya girl and her father Baba Pong Tay. And together they solve the mystery of the pineapple tart recipe. Johnny is also introduced to the unique food, fashion and customs of this amazing culture. Come join Johnny on a magical visit to the Peranakan Place.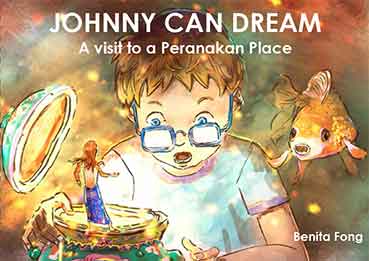 "Peranakan culture in modern context is much diminishing. Many of us have only glimpses of the past. So it makes me happy that it is recorded in such a simple manner for all to enjoy.
I am glad that it depicts many of the glories of our past with the encounters of Johnny through meeting the little Nonya, viewing the cupboards, porcelain and tasting the food. A whole spectrum of our culture is portrayed here and recorded for posterity."
Baba Peter Wee
President
The Peranakan Association
Singapore